With frozen food suppliers under constant pressure to reduce processing costs, BQF(batch quick freezing) have a significant impact on costs saving. The air blast freezer is a kind of BQF freezing machine, it is a type of shock freezer. It is for the purpose of small capacity (generally 400kg - 2.5T/day) freezing.


The freezer is widely used to freeze dairy, poultry, langoustine, clams, seafood and meat, such as chicken, beef, pork and shrimp. Also available to bakery, pastry, cheese, ice cream and etc
The food materials are loaded in roll-in trolleys, Move the trolleys into the insulation room. Freon system create low temperature freezing surrounding, Strong air flow fans circulate the air to accelerate heat transferring. The lowest inner temperature can reach to -45℃(-49℉). The blast freezer or shock freezer is the necessary equipment for hotel, supermarket, refectory, canteen and small food processing plant.
We can make the various size roll-in trolleys and trays, also provide the solution for blast chiller (temperature range: -15℃(5℉) - -20℃(-4℉)), and deep walk in freezer (min temperature: -60℃(-76℉)).
Application
Snack, meat balls, ham, pasta, clams, hairtail, dumpling, ice cream, etc.
Features and Benefits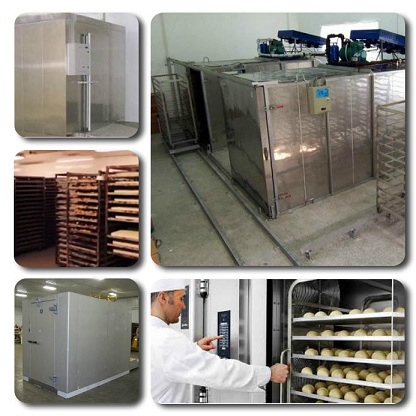 • Low investment, compared with IQF freezers. the cost of work in freezer is one third to one fifth of theirs
• Small volume is convenient to transport, standard models can be loaded in to 20 feet container directly.
• Easy to install and operate, refrigeration system and freezing room are ready, need to connect pipelines only.
• Low energy consumption, closed insulated cabinet prevent to waste cold air.
Specification of Air Blast Freezer
Food material loading capacity of one batch: 100 - 600kg
Food material outlet temperature: -18℃(-0.4℉)
Freezing time of one bach: 1.5 - 5 hours
Tube/ Fin Material of evaporator: Copper/Aluminum
External size of standard model: 2.2 - 9.1m (length) X 1.70m (width) X 2.26m (height)
Insulation: 120mm thickness polyurethane panel with two sides of stainless steel plate covering
Compressor: Bizter, Copeland or other Chinese brand
Refrigerant: Freon R404a/R22/R134 for optional
Temperature of air circulation in insulated
cabinet:-36 ± 2℃ ( -32.8 ± 4℉)
Voltage: 380V 50Hz 3 Phase or Customized
Floor: Hygienic, non-slip figured aluminum sheet


Recommend IQF Freezers