Ice machines are widely used in the food service industry, food processing industry, aquatic processing industry, fishing industry, pharmaceutical manufacturing and large concrete projects.


Traditional ice machines are slow in making ice and have low energy usage. The company's block ice machine overcomes the defects of traditional ice machines. It is a machine that not only produces hard ice, but also is easy to move, fast in making ice, and energy efficient.
The block ice machine includes a control box, compressor, condenser, capillary tube and evaporator, the compressor is connected to the condenser, capillary tube and evaporator in turn, said evaporator is a direct evaporation ice bucket, the ice bucket is fixed above the frame through the flange, the surface of the cladding and the inner wall is provided with refrigerant flow channel, the inner wall is made of aluminum, the refrigerant flow channel is close to the inner wall, with liquid inlet and outlet. The heat exchange channel made of alloy aluminum profile is used, and the refrigerant evaporates in the heat exchange channel, so that the temperature of the two walls of the alloy aluminum profile drops rapidly, forcing the water to freeze in a short time, thus greatly reducing the energy consumption. And the ice size is adjusted according to the ice making grid of the evaporator, and the aluminum alloy profile has good thermal conductivity to achieve the purpose of fast ice making.
Application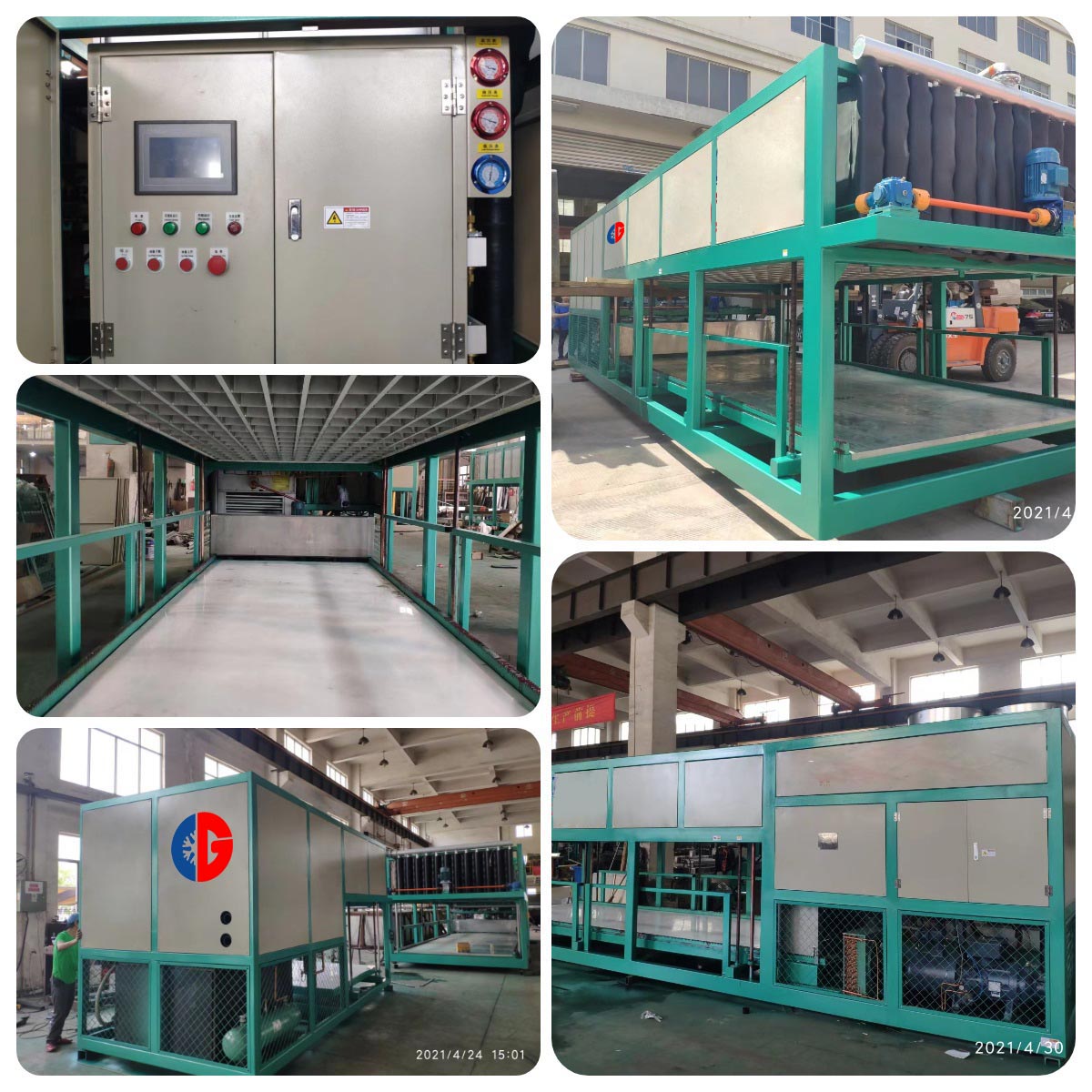 Large supermarket fresh, frozen meat preservation booth, meat and poultry processing process fresh cooling, vegetable preservation, wine manufacturing cooling use, baked eel, shrimp products, fish and other by-products processing fresh, fresh fish and shellfish transportation preservation. Pharmaceutical production and processing process cooling and refrigeration use. Reservoirs, mines, railroads, airports and other large construction projects used for rapid cooling of concrete. etc.


Features and Benefits
• Energy-saving: without the use of traditional equipment such as cooling tower, condenser pipeline pump, traveling car, agitator, industrial salt, air-cooled condenser, etc., it achieves the function of saving electricity and water.
• Intelligent: Adopt microcomputer automatic controller, realize automatic water filling, automatic ice making, automatic dehydration and automatic ice dispensing.
• Efficient and safe: the ice bucket is made of aviation aluminum alloy, with good temperature conductivity, safe and hygienic ice, and short ice making cycle; it uses environmentally friendly refrigerant for refrigeration, which is safe and environmentally friendly. Suitable for use in any site.
• Mobile: The integrated design covers a small area and can be flexibly moved for easy installation.
• Good profit: Less investment cost than traditional brine ice making, low maintenance cost, high production and high revenue.


Specification
Ice production capacity: 5 - 30T/day
Lifting mode: Automatically
Ice Size: 990*370*165mm
Compressor brand: Bizter, Fusheng, Hanzhong
Compressor: Bizter, Copeland or other Chinese brand
Refrigerant: Freon R404a/R22/R134 for optional
Cooling mode: Evaprative or water