Mesh belt IQF tunnel freezer is widely used in frozen food industry, especially for strip, cubic or grain food. This industrial freezer for IQF freezing purpose is consisted of double stainless steel covering insulation board. Aluminum fins and coils evaporator, stainless steel mesh belt. Tunnel freezer is easy to assemble, operate and maintain.
Our tunnel freezer has two types and three designs. Two types are the standard model (SSD series) and wide belt model (SKD series). SSD series are longer, it is suitable to freeze block articles, like dumpling. SKD series can reach to large capacity.It is suitable to freeze pieces articles, like shrimp. SSD series tunnel freezer has three directions of blasting: horizontal circulating blasting, vertical continuous blasting and vertical interval blasting. SKD series are vertical interval blasting.
Application
Shrimp, meat balls, ham, pasta, grains, langoustine, clams, hairtail, sliced fish, dumpling, pig tongue, chicken, etc.
Features
• Multi-layer and multi directional blast freezing for selection
• Rational arrangement of large capacity axial fan improve refrigeration efficiently
• Mesh belt and frame of tunnel freezer are made of SUS 304,belt speed is variable, freezing can be controlled accurately
• Fewer cold escape from 120mm polyurethane insulated panel with 0.4 mm stainless steel covering in two sides
• Evaporator is made of superior coils and fins, works more than 10 hours without defrosting
• 4 temperature measuring points in the different positions of freezer, the running status of the IQF machine is displayed in electrical control panel.
Performance Parameters
Food feeding temperature: +15℃
Food out-feeding temperature:-18℃
Freezing capacity (based on shrimp): 300-2000kg/h
Freezing time:15-30 minutes
Refrigerant: R717,R22,R404a,R507c


Tunnel IQF Freezer in Running PDF Catalogue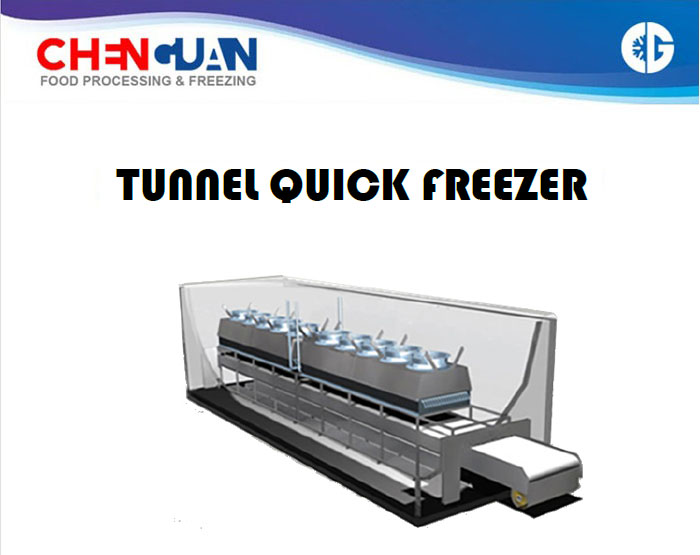 Recommend More